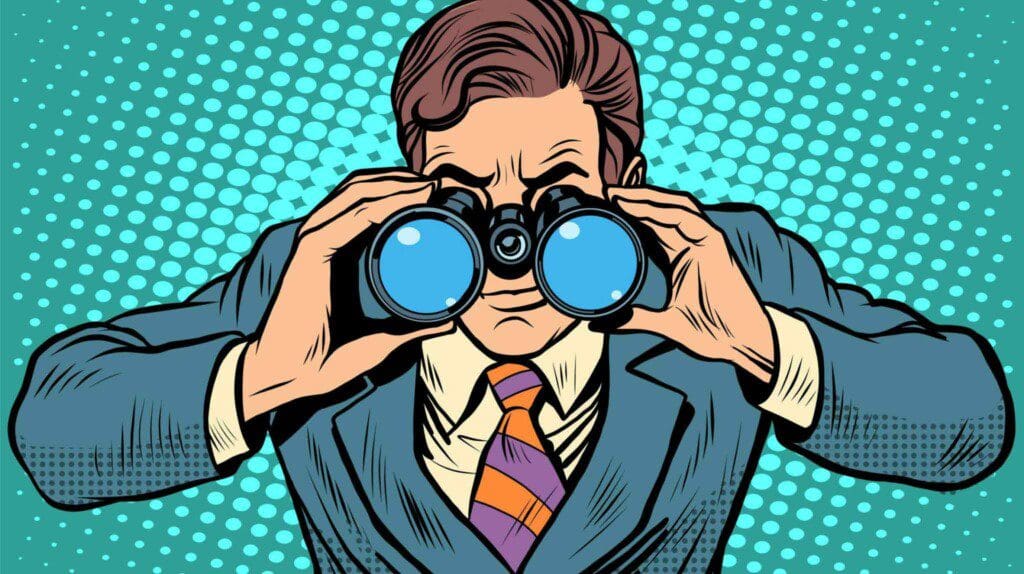 For "challenger" brands, retail shelf impact is the best place to gain a competitive edge
Retail shelf impact is the most critical performance indicator for a brand at the First Moment of Truth (FMOT). You have heard the saying "Not seen, not bought." There is a direct correlation between being seen and being bought.
INSEAD Associate Marketing Professor Pierre Chandon conducted an extensive study (in collaboration with Wharton Professors Wes Hutchinson and Eric Bradlow, 2009) that examined the effects of in-store marketing on both attention and choice. His conclusion is that: "The impact of being visible in the store, where the majority of purchases are still made – so-called "visual equity" – is more important than brand awareness or "memory equity". This is especially true with challenger brands and brands with lower market share.
Visibility is the precursor to choice
More than 65 percent of all facings on store shelves are not seen by shoppers in a typical shopping trip. We also know through our research that shelf placement plays an important role on how visible your brand is and how likely it is to be purchased. Have you ever wondered why your brand is performing much better in a particular banner verses another? We often see disparities in sales between two banners of over 20 percent for the same brand, even though the competitive sets are very similar and the only two major variables are store brands and the planogram, while the Purchase Conversion Index for the brand remained constant for both banners.
Shelf placement also has an effect on people's perception of your brand. Results from our studies as well as various independent studies (Otterbring, Wastlund, Gustaffson and Shams, 2014, and Lang, Kelley and Moore, 2016) show that shoppers are inclined to search the upper part of the shelf more than the lower part by an average of 20 percent. Research also shows that people expect products of higher quality to be found at the top of the shelf (Chandon et al) – while not necessarily relevant to visibility, it's an interesting observation to mention.
So how do you increase your brand's retail shelf impact?
Picture yourself walking down the aisle of a grocery store looking for the coffee section. You see it, it's halfway down the aisle to your right. "Ok, I see it now, there's the Maxwell House…and there's my brand…oh, what's that? Hmm…"
Several things happen in those few seconds on the path to purchase: From 30ft away, you locate the coffee section (navigation). From 20 to 10ft you locate your brand (selection). From 10 to 3ft after locating your brand you take a quick glance to see what else there is and compare features and prices (decision making).
Visually, this is what it looks like:

As shoppers approach the shelf their eyes are constantly scanning the shelf to see what else there is – this is the moment when another brand can catch the attention of the shopper and become part of the purchase consideration. It's a game of seconds; brands noticed in the first ten seconds of search are 80 percent more likely to be picked up.*
*Source: Visual Shopper data: 2015–2016
As you were reading the previous paragraph did you notice yourself looking at the white boxes within the shelf? That's an example of disruption. When we ran an eye-tracking test, we found that over 60 percent of viewers looked at the white boxes, in an area of the shelf that normally wouldn't get that much attention. There are many ways to create visual disruption on shelf, and this is only one example. The key learning is that when designing a challenger brand one can't underestimate the importance of breaking through the visual clutter.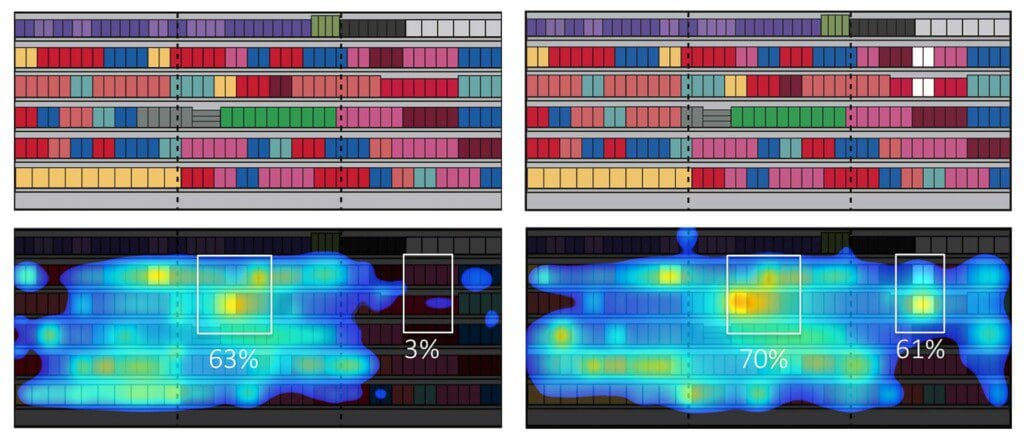 In our experience, brand owners of lower market-share brands are inclined to choose designs that visually conform to the category.
They seem more preoccupied with fitting in rather than breaking out. As a result they become part of the backdrop and are seldom noticed. For 85 percent of all brands "out there," mass advertising to create consumer awareness isn't an option. Most challenger brands live or die by how well they perform on shelf. For these brands visibility on shelf is critical.
Some challenger brands have a higher purchase conversion ratio than the leading brand
Our tests repeatedly show a very strong correlation between what shoppers look at and what they purchase.
It stands to reason that market leaders would have a high purchase conversion ratio: Brand loyalty, brand awareness, and shelf placement are all working in their favour. However, based on our studies, many challenger brands demonstrate a higher purchase conversion ratio than the leading brand, suggesting that in some cases the design of the package may be very appealing but simply not visible enough.
This redesign increased shelf visibility by 25%
Dare Foods Canada asked us to redesign the Bear Paws brand. One of the design objectives was to bring the personality of the bear to life to increase the emotional connection between the brand and consumers. Our immediate attention went to the shelf to see what the brand was up against: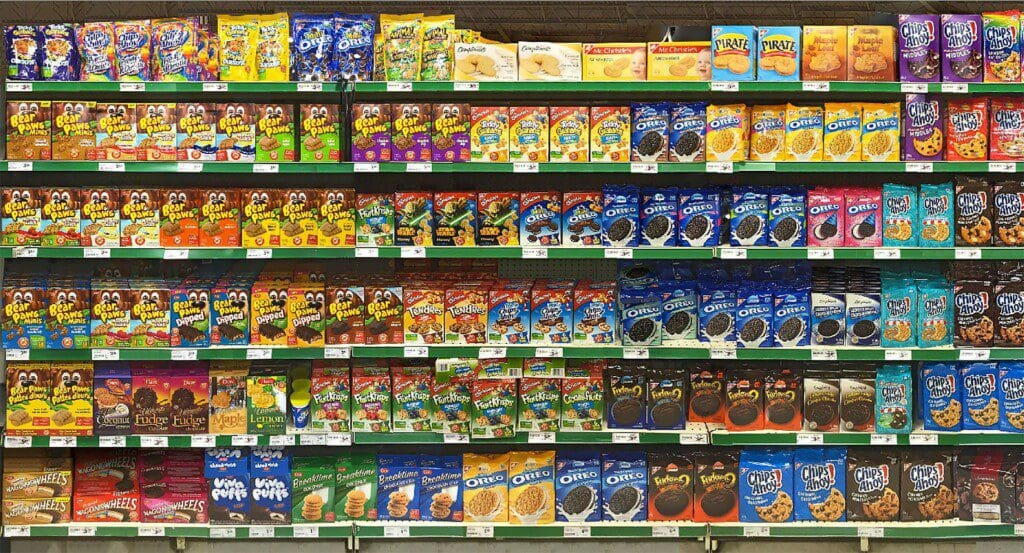 Oreo cookies were the dominant cookie brand (fig.1) in every store banner across the country. Our challenge was to generate enough disruption to capture the attention of shoppers. The Oreos packaging creates a highly conspicuous block of bright blue accentuated by the "bull's-eye" effect of the large black and white cookie. In order to compete, our design would have to create a visual distraction to capture some of that attention.
We saw an opportunity to bring the bear closer to the shopper and to create eye contact. We felt very strongly that the eyes were the key. This became the basis of our proposal to the client. Now we had to prove it:
We tested three concepts monadically: Control (Current design); "The Bear Face" and Design "B". We asked respondents (200 respondents / cell) to "shop" the shelf.

Results from V-Shopper® indicated that the "Bear Face" design would increase shelf visibility by more than 25 percent from "Current," leading to an increase in total sales of an estimated 6 percent. Actual sales 12 months later were considerably higher, even though media, trade spend and competitive activity were fairly constant.
In this test even though more attention was garnered by the new Bear Paws design, we noticed that it wasn't at the expense of the leading brand. It was at the expense of low market-share brands.
Results from the heat map (fig. 2) also illustrate the relationship between brands noticed (red dots) and items purchased (purple dots) – 71 percent of all purchases in this test occur in close proximity of the brand that shoppers notice first. This is just a few points above norm.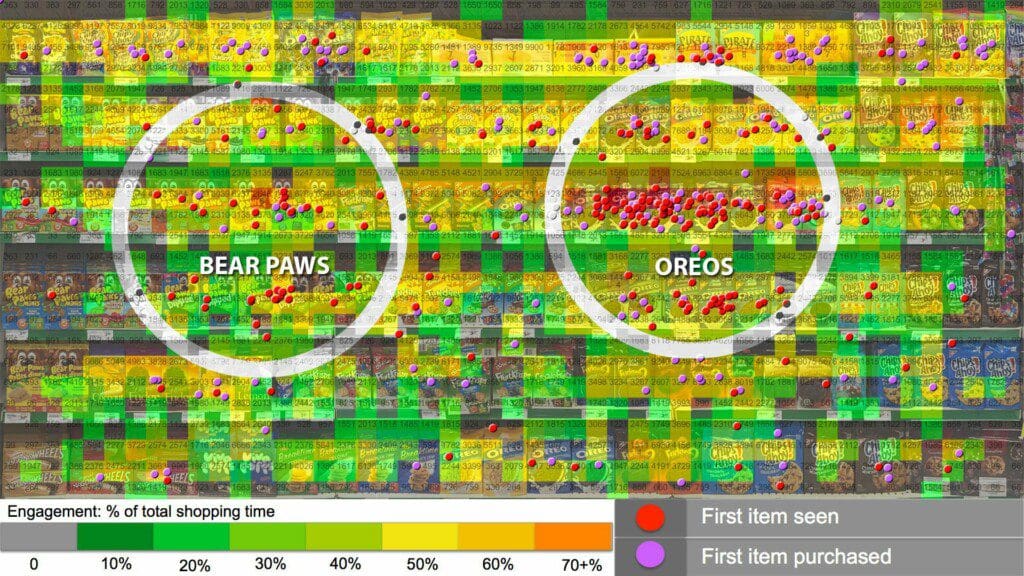 The green and grey areas in our heat map (fig. 2) indicate very low visual traffic – capturing less than 10 percent of reach (viewing time). Brands in the "dark areas" of the shelf will struggle to realize their full sales potential. Hence the saying "Not seen, not bought!"
Visibility is affected by two factors: location and disruption. If you can negotiate a better shelf position with some banners I would strongly advise that you do so. If your brand can be positioned closer to eye-level, you will see as much as double digit improvements in sales. Some will argue that micro-merchandising is simply not tenable. In that case consider a disruption tactic with the help of your design team, to achieve greater visibility.
Visibility is vital. We have helped hundreds of challenger and lower market-share brands increase their sales with design that truly delivers measurable results.
Marovino specializes in Brand Strategy, Shopper Behavior Research, Brand Identity, Package Design, Consumer insight, Category Benchmarking, Brand Segmentation, Brand Architecture, and Brand Standards.
We are recognized as one of the Top Branding Agencies by DesignRush.