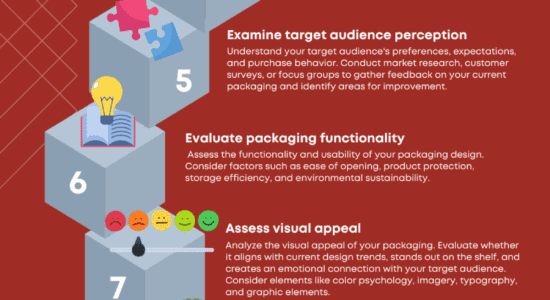 In the competitive world of business, packaging design plays a crucial role in capturing consumers' attention and conveying a brand's identity. To ensure that your packaging design aligns with your brand's essence and resonates with your target audience, a comprehensive brand audit is essential. In this article, we will guide you through the steps involved in conducting a brand audit for packaging design, focusing on reviewing brand identity, ensuring design reflection, and evaluating audience alignment.
Step 1: Review the Brand's Positioning, Values, and Personality
A brand's positioning, values, and personality form the foundation of its identity. Begin the brand audit by revisiting the brand's positioning statement, mission, and core values. Look for brand guidelines or documents that outline the desired identity. Analyze how the brand is currently perceived in the market and gather insights from existing research and customer feedback.
Step 2: Ensure the Packaging Design Reflects the Core Essence of the Brand
The packaging design should be a visual representation of the brand's core essence. Evaluate the design elements, including color schemes, typography, imagery, and overall aesthetics. Assess if these elements align with the brand's visual identity and evoke the desired emotional response. The packaging design should resonate with the brand's personality and values, establishing a strong connection with consumers.
Step 3: Evaluate How the Packaging Aligns with the Brand's Target Audience
Define your brand's target audience and analyze the packaging design from their perspective. Consider their preferences, needs, and aspirations. Does the packaging design effectively communicate with them? Identify any gaps or areas where the design might be falling short. By understanding your audience, you can tailor the packaging design to meet their expectations and create a meaningful connection.
Methods to Gather Insights:
To gain a holistic understanding of your brand's identity and how it aligns with the packaging design, consider these research methods:
Review Market Research and Customer Insights:
Analyze existing market research data and customer feedback related to the brand and packaging design.
Look for patterns or trends in customer preferences, attitudes, and perceptions.
Identify areas where the packaging design may need improvement.
Conduct Surveys or Focus Groups:
Develop surveys or organize focus groups with representatives of the target audience.
Include questions about their perception of the brand and its packaging.
Gather opinions, emotions, and suggestions regarding the packaging design and its alignment with the brand's identity.
Seek Internal Stakeholder Input:
Consult with internal stakeholders such as marketing, design, and brand teams.
Conduct interviews or workshops to gather their insights and perspectives on the brand identity and packaging design.
Discuss how they perceive the brand and whether the packaging design effectively reflects it.
Step 4: Analyze the Competitive Landscape
To truly understand how your packaging design stacks up, conduct a thorough analysis of your competitors' packaging. Evaluate their visual aesthetics, messaging strategies, and overall brand positioning. Identify their unique selling points and areas where they excel or fall short. This analysis will provide valuable insights into how you can differentiate your packaging design and make it stand out in the market.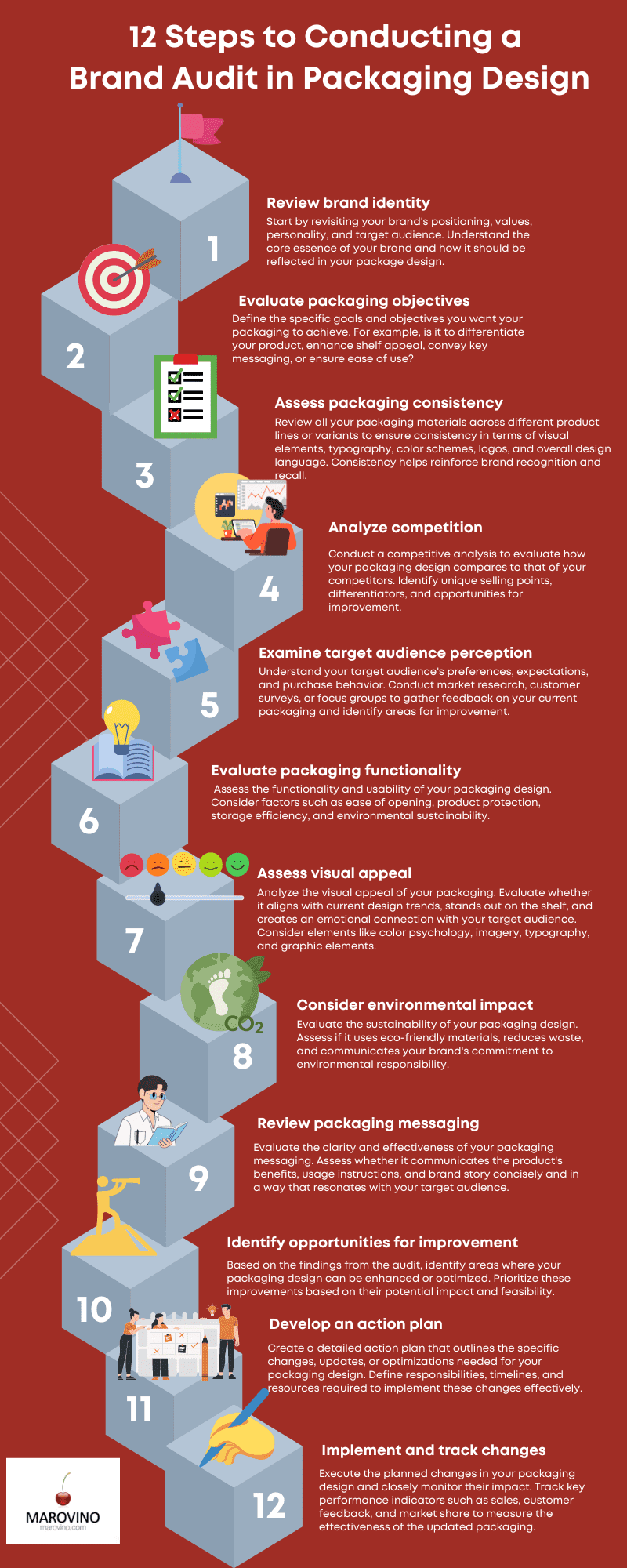 Step 5: Consider the Emotional Connection
Packaging design has the power to evoke emotions and create a lasting impression. Evaluate whether your packaging design elicits the desired emotional response from your target audience. Does it align with their aspirations, values, and lifestyle? Assess the imagery, colors, and messaging to ensure they resonate with your customers on an emotional level. By forging a strong emotional connection, your packaging can leave a lasting impact and foster brand loyalty.
Step 6: Evaluate Functionality and User Experience
Packaging design isn't just about aesthetics; it also needs to be functional and user-friendly. Evaluate the practical aspects of your packaging, such as ease of opening, storage efficiency, and product protection. Consider how the packaging enhances the overall user experience, from the moment of unboxing to product usage. A seamless and well-designed user experience can create positive associations with your brand and enhance customer satisfaction.
Step 7: Assess Environmental Sustainability
In today's eco-conscious world, consumers value brands that prioritize sustainability. Evaluate the sustainability of your packaging design by considering factors such as materials used, recyclability, and waste reduction efforts. Ensure that your packaging communicates your brand's commitment to environmental responsibility and resonates with environmentally-conscious consumers.
Step 8: Seek Feedback from Customers
Direct feedback from your customers is invaluable. Conduct surveys or interviews to gather their thoughts and perceptions regarding your packaging design. Ask for their opinions on its visual appeal, functionality, and alignment with the brand. Consider their suggestions for improvement and incorporate their feedback into your packaging design strategy.
Step 9: Identify Opportunities for Improvement
Based on the findings of your brand audit, identify areas where your packaging design can be enhanced or optimized. Prioritize these improvements based on their potential impact and feasibility. Whether it's refining the visual elements, optimizing functionality, or strengthening the emotional connection, focus on areas that will bring the most value to your brand and resonate with your target audience.
Step 10: Implement and Iterate
Once you have identified the areas for improvement, develop an action plan to implement the changes in your packaging design. Assign responsibilities, set timelines, and allocate resources accordingly. Regularly review and iterate on your packaging design strategy to ensure that it continues to align with your evolving brand identity and consumer expectations.
Step 11: Develop an Action Plan
With the insights gathered from your brand audit, it's time to create a detailed action plan that outlines the specific changes, updates, or optimizations needed for your packaging design. Break down the action plan into actionable steps and prioritize them based on their importance and potential impact.
Assign responsibilities to team members who will be responsible for implementing the changes. Set clear timelines to ensure that the action plan stays on track and that deadlines are met. Determine the resources required, whether it's design software, printing materials, or external support, and allocate them accordingly. A well-defined action plan will provide a roadmap for executing the necessary changes effectively.
Step 12: Implement and Track Changes
Once your action plan is in place, it's time to put it into action. Work closely with your team to implement the planned changes in your packaging design. Collaborate with designers, copywriters, and production teams to ensure that the changes are executed according to the desired specifications. Monitor the progress of the implementation process and address any issues or challenges that may arise.
As the changes are implemented, it is essential to closely track their impact. Monitor key performance indicators such as sales, customer feedback, and market share to gauge the effectiveness of the updated packaging design. Analyze how the changes influence consumer perceptions, purchasing behavior, and brand loyalty. Collect qualitative and quantitative data to evaluate the success of the new packaging design and identify areas that may require further optimization.
Regularly review and analyze the tracked data to assess the impact of the changes over time. Compare the performance before and after the implementation to determine if the updated packaging design aligns better with your brand's identity and resonates with your target audience. Use this data-driven insight to make informed decisions for future iterations or improvements.
Conclusion
Conducting a brand audit for your packaging design is a vital step in ensuring that it effectively represents your brand's identity and connects with your target audience. By developing a comprehensive action plan and implementing the necessary changes, you can enhance the visual appeal, functionality, and alignment of your packaging design with your brand's essence.
Continuously track the impact of these changes and make data-driven decisions to optimize your packaging design further.
Remember, a successful brand audit and implementation process require collaboration, creativity, and a customer-centric approach. Stay attuned to market trends, consumer preferences, and industry innovations to keep your packaging design fresh, relevant, and impactful. Through ongoing evaluation and refinement, your packaging design can become a powerful tool that strengthens your brand's identity, engages customers, and drives business success.
Download The Checklist To Get Started with Conducting Your Brand Audit on Package Design for FREE
Accompanied by templates to get you digging deep into your Brand Audit exercise